New York - Toward the 10th World Water Forum in Bali 2024, the Government of Indonesia together with the World Water Council (WWC) are organizing an exhibition (mini exhibition) which is also one of a series of events at the United Nations (UN) 2023 Water Conference in New York, the United States of America.
Minister Basuki said that the World Water Forum is the largest international conference in the field of water. "There is one thing that is unique. Indonesia's desire to be the host was conveyed to the WWC President Loic Fouchon in June 2019 at the UN headquarters in New York," said Minister Basuki at the beginning of the opening remarks of the exhibition which was also attended by the WWC President, Loic Fauchon, and President of the General Assembly UN, Csaba Corrosion on Tuesday (21/03/23).
"The World Water Forum provides an important platform for all stakeholders in the water sector worldwide and engages them to discuss current issues of water awareness. Through this forum, we will make water a top priority and ensure its sustainability for future generations," said Minister Basuki. Through the 10th World Water Forum, the Government of Indonesia hopes that there will be continuity in rounding up results and accelerating the implementation of commitments for action from action from New York 2023 to Bali 2024.
The 10th World Water Forum will be held on 18-24 May 2024 in Bali. This event is expected to draw more than 30,000 people, including heads of state and minister from hundreds of countries and organizations. Around 250-300 discussion sessions will be held with the support of international partners.
"On this occasion, I would like to invite you to participate in the 10th World Water Forum and the 2nd Stakeholder Consultation Meeting, both of which will take place in Bali on September 18-19, 2023. Thank you for coming and let's enjoy the exhibition together," said Minister Basuki.
 The exhibition was held at the UN headquarters to provide key information regarding the implementation of the 10th World Water Forum starting from the schedule, topic structure with the theme "Water for Shared Prosperity", and also on how to be involved in political, regional, and thematic processes regarding water.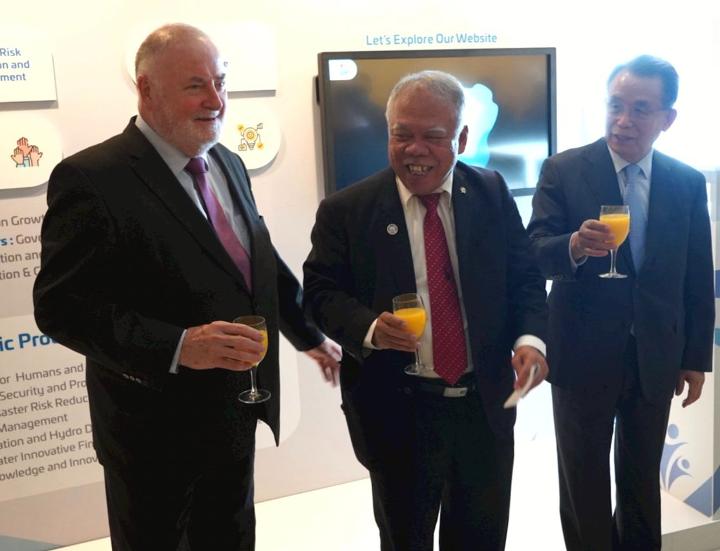 "This exhibition is the 10th World Water Forum promotion event to the global community. We expect to establish a spirit of collaboration to accomplish success" explained Minister Basuki.
The exhibition is divided into four parts. The first part describes the beginning of the World Water Forum agenda in 2024 in Bali. The third section explains a glimpse of Bali as the location for the forum, and finally, the documentation of Road to The 10th World Water Forum in 2024.
Jakarta, March 21st, 2023
National Organizing Committee of the 10th World Water Forum
Email: secretariat@worldwaterforum.org
IG: @worldwaterforum10