Indonesia is a nation rich in culture, with thousands of different ethnicities spread from Sabang to Merauke. Whis diversity significantly influences the way people live in distinct regions.
Subak is one example of local wisdom applied by the Balinese community in managing water resources. Long before the discovery of smart water management, Subak emerged as an inclusive and sustainable irrigation management system.
Sustainability Principles in Subak
Subak utilizes societal structures to access, distribute, and harness water resources. By involving the community's roles and functions, the Subak system nurtures both cultural heritage and livelihoods.
Despite its origins since 1071 AD-as substantiated by the discovery of the Klungkung inscription in 1072 AD-the Subak system dynamically adapted to the changing times by considering the needs of the community and crop production cycles.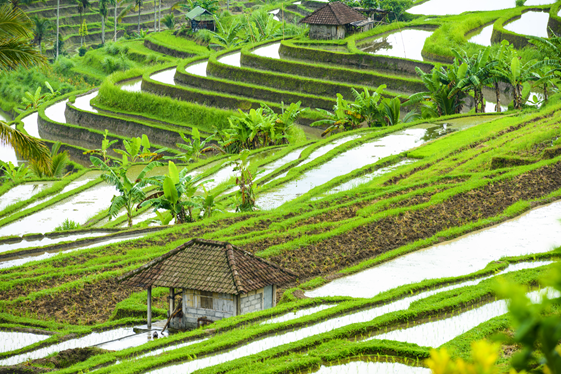 As a traditional water management system, Subak adheres to the philosophy of Bali Tri Hita Karana, which believes in a harmonious relationship between God, humans, and nature. This philosophy aligns with the sustainability principle to prioritize long-term goals.
Learning Water Management from Indigenous people
The Vice Chairman of the National organizing Committee (NOC) of the 10th World Water Forum, also as Minister of Public Works and Housing of the Republic of Indonesia, Basuki Hadimuljono, views the Subak system as closely aligned with the theme of "Water for All: Harmony between Humanity and Nature," discussed at the 18th World Water Congress in Beijing, China, from September 11th to 15th, 2023.
"Subak represents the balinese irrigation system, embodying a cultural legal framework characterized by social autonomy, food security, and the influence of religion. It reflects a commitment to cooperation for securing water resources for food production, particularly rice and other crops," he stated.
Minister Basuki also disclosed that the Subak irrigation system will be a key field visit destination during the 10th World Water Forum in Bali, from May 18th to 24th, 2024, offering a valuable opportunity for the global community to learn about Subak in Bali.
In June 2012, Subak received recognition as a world cultural heritage during a UNESCO session in Saint Petersburg. Subak stands as an exemplary model of how indigenous communities successfully manage water resources sustainably, a lesson for society at large.
National Organizing Committee of the 10th World Water Forum

Email: secretariat@worldwaterforum.org

IG: @worldwaterforum10